Greetings Cosmonauts!
Those of you that keep tabs on CosmicPvP would know that last week they moved from Teamspeak as their VOIP Support application, to Discord!


We're now going to be beta testing Discord for CosmicSky!
Welcome to Cosmic Minecraft Discord!
Do

/discord

in-game!
​
How to connect
Luckily for us, the PvP community were our Guinea Pigs and I'm proud to say that all testing went incredibly well. So, we're now extending this to CosmicSky.
Simply type /discord in-game and follow the link provided!


The next screen you see will ask you to authorize joining from the Discord Bot


Once you verified your discord information and authorize you will be redirected to the forums to finalize this process and join the discord.
Error Messages
If you encounter any problems during this process you will see one of the following messages: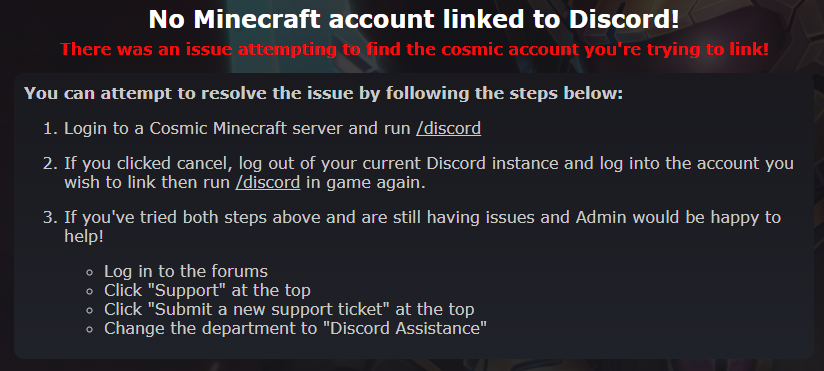 If you have any questions, please have a read over our
FAQ thread!
If you are unable to resolve any potential issues
please submit a Support ticket under the "Discord Support"
department
and we will be happy to help you!
Staff will be available in the Teamspeak throughout the day working to assist as well.
We would like to thank you ahead of time and hope that we can work together to make this the best Discord Server possible! Have a great day Cosmonauts!
​