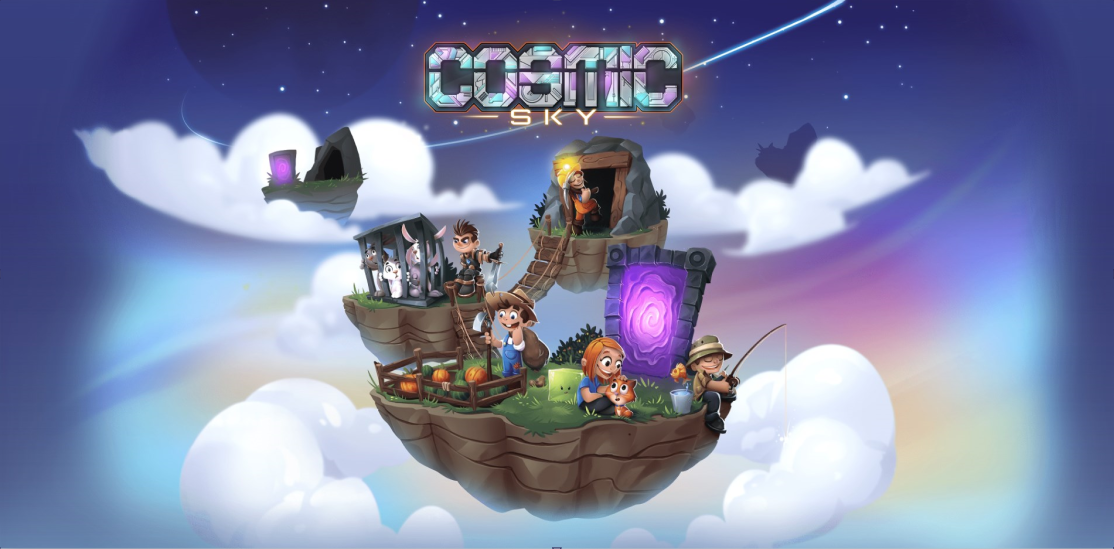 CosmicSky: Map #2 "New Age"
IP: cosmicsky.com
Map #1 EOTW:

May 20th 2019 6pm CDT / 12am BST / 9am AEST (Tuesday)
Map #2 SOTW:

May 24th 2019 3pm CDT / 9pm BST / 6am AEST (Saturday)
(if your timezone isn't shown, please use the times above to convert to your timezone here)
​
Greetings Cosmonauts!
The time has come - Map #2 is
*just*
around the corner, and oh my goodness you will
NOT
believe what we have in-store for you all. We've had a great first season of CosmicSky, but all good things must come to an end - it's been emotional! In this post we're going to be detailing the basics!
Carnage​
Map #2 Updates​
Paid Unbans ​
​
Reset Details
As mentioned above, EOTW will be Monday 20th May 2019 to allow for a smooth transition into the new map, which will start Friday 24th May 2019! Speculation about what you will keep on reset has been rampant, so I'm here to put your minds at ease...
/is top will be calculated on Saturday 18th May at Midnight CDT to allow
REPUTATION POINTS
to be allocated!
Reputation Points are allocated to the top 10 on /is top. These are your bragging rights for future maps! You will be able to see your reputation points in chat with your name, and it will show what map you obtained them! The top 10 islands will gain 1 reputation point per /is top rank, and the top 3 islands will receive two extra bonus points!
/is top 1:
Reputation Points Receive
+16
/is top 2:
Reputation Points Receive
+13
/is top 3:
Reputation Points Receive
+10
/is top 4:
Reputation Points Receive
+7
/is top 5:
Reputation Points Receive
+6
/is top 6:
Reputation Points Receive
+5
/is top 7:
Reputation Points Receive
+4
/is top 8:
Reputation Points Receive
+3
/is top 9:
Reputation Points Receive
+2
/is top 10:
Reputation Points Receive
+1
What you

will keep

after reset:
Ranks
Skill Tokens
Reputation Points
/showcase contents
What

will be lost

after reset:
Inventories/PV contents

Make sure to /showcase all your treasures that you don't want to lose as we go into Map #2!

Your island, including

/is level
/is skill levels
Unlocks, such as farming recipes

Cash balance
Adventure Map Unlock
Carnage


Starting tomorrow, Saturday 18th May 2019

we will have our very first carnage! Carnage is a fun and exciting in-game event that signifies the end of the map and is the perfect way for us all to say goodbye! We use this time to celebrate, remember the fun times we've had and all get ourselves prepared for the next map!

Lootbox "Give All"s

During Carnage we're going to be giving everyone online an exclusive reset lootbox. These "give all"s will be at 2 different set times, as detailed below. Expect some custom Carnage gear, exclusive in-game items, as well as special Admin items to help us all remember what a fantastic map we've just had!

Saturday 18th May 2019 - 9am CDT / 3pm BST / 12am AEST
Sunday 19th May 2019 - 5pm CDT / 11pm BST / 8am AEST

Again, if you need to convert the above times into your timezone, please use

this

!

You need to be online at these times.

You will also need to have an empty inventory slot to receive the item! Unfortunately, if you're not online or do not have space for the item, we're not going to be able to make exceptions.

EOTW Event

End of the World is a big deal, and we want to go out with a

BANG!

Starting at 6pm CDT May 20th, some strange forces will come into play to make sure we say goodbye to Map #1 properly! Be prepared for massacre and destruction- /showcase what you want before the event as we can't guarantee you'll be able to keep it once the event starts!

Twitter Giveaways

From now, until we head into Map #2, we'll be doing some exclusive leaks and giveaways over on the

Official CosmicSky twitter

! Make sure you head over there and follow us to make sure you don't miss out on the awesome giveaways!

Map #2 Updates

We have been paying close attention to the community feedback, as well as the overall progression of the server during Map #1. With this information, we've been tweaking key points of the game, as well as overhauling major systems in CosmicSky. We're also bringing some brand new content for you all to play with!

More information on the tweaks, as well as full details of these new updates, will be released in an announcement thread very soon - keep those eyes peeled!

For now though, here's a teaser of

some

of the new updates to expect!
Player Portals
Island Ratings
Island Upgrades
Farming Quotas
Inventory Pets
Heroic Adventures
Here are some of the areas which we have paid close attention to, and you will see changes made going into Map #2:
Pumpkin and Melon farms
/is top calculations
Loot Tables (incl. Adventures)
Adventure tp-out times
Auto Scaling Loot
/shop price balancing
/is farming requirements
/is challenges
Science Access
Mob Spawner Shards
Paid Unbans
Been a naughty cheater-cheater-pumpkin-eater, and wound up banned? Want to give the next map of CosmicSky a try? Paid unbans are now available to help you with that! Available on our
server store
, these are limited to
one purchase per year per account!
You'll not be eligible to purchase an unban if you are:
Banned for Duplication Exploit
IP Banned
Banned for Chargeback
To mark this momentous occasion, we're offering 50% OFF Paid Unbans for this weekend only!
YouTubers!
We're super stoked to be inviting 4 new YouTubers to come and play CosmicSky! I know you're all going to be on the edge of your seat wondering who's coming - but rest assured, the full details will be released very soon. Just trust me when I say that you're going to know who these guys are!

WOOOOOW it's going to be awesome! Make sure you give all this information another read through to make sure you've not missed anything through excitement! Remember, keep an eye out on the Announcement Forum here for more specific details about what Map #2 will bring.
For now, breathe and get yourselves prepared for the HYPE!​