Greetings Cosmonauts!
We hope you all had a great May Day weekend! We've got an update this week that a lot of you have been asking for, and we're super proud of it - it's beautiful! So! Time to settle down and get onto the main event...
/showcase​
Showcase Expanders​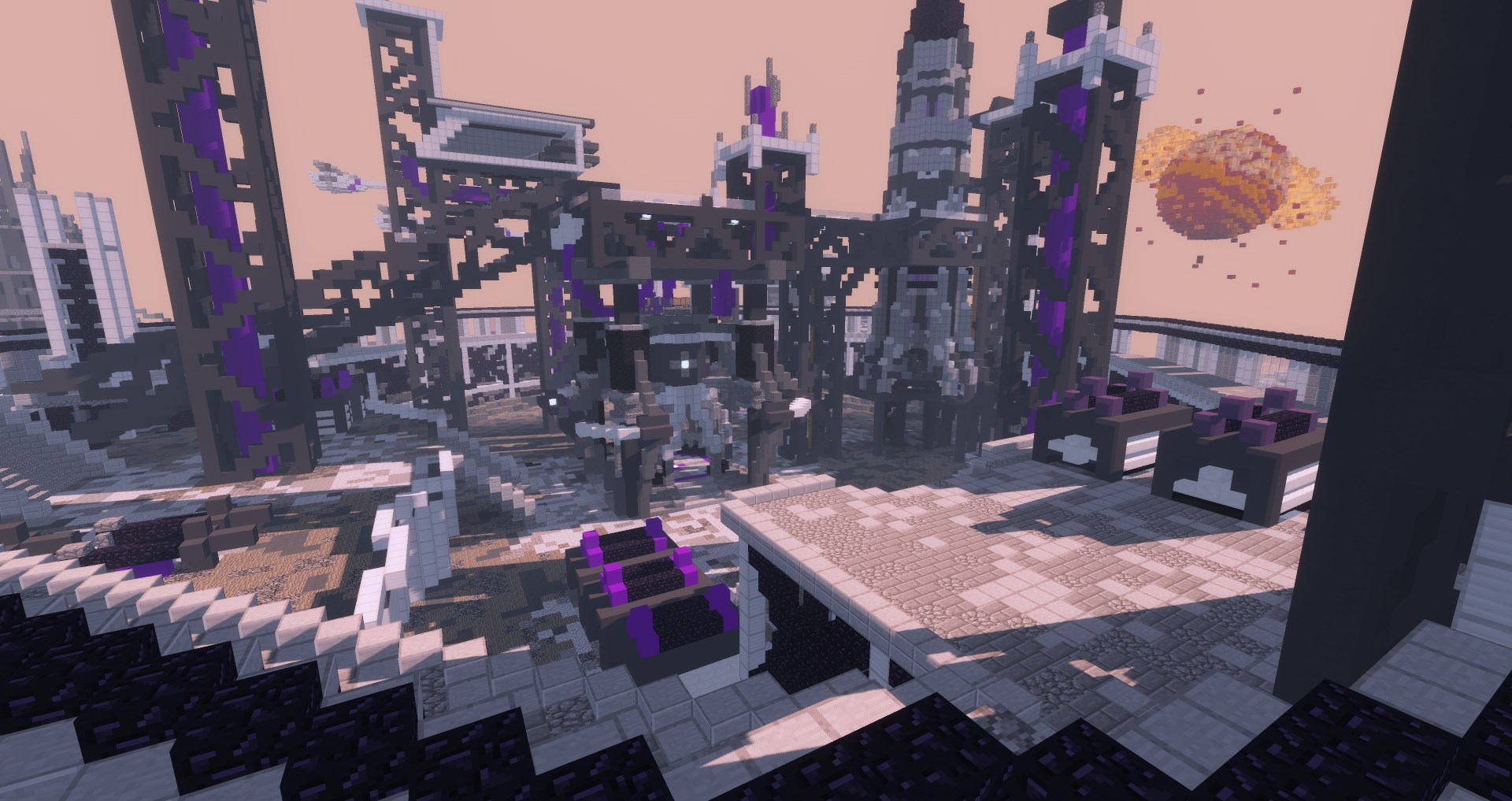 KOTH: King of the Hill
KOTH is a highly competitive and strategic game. You and your Alliance will go against others to be the King of the Hill - to earn that coveted KOTH Lootbag which is full of high-tiered spoils!
​
KOTH runs daily (please use these times to find YOUR timezone if it's not listed)
Monday: 4pm CST // 10pm BST // 7am AET​
Tuesday: 4pm CST // 10pm BST // 7am AET​
Wednesday: 4pm CST // 10pm BST // 7am AET​
Thursday: 3pm CST // 9pm BST // 6am AET​
Friday: 5pm CST // 11pm BST // 8am AET​
Saturday: 7am CST // 1pm BST // 10pm AET​
Sunday: 10am CST // 4pm BST // 1am AET​
When KOTH is about to start there will be a notification in chat to warn you - time to get yourselves ready to claim the prize!
Use /koth and click the diamond chestplate to enter the safe spawn area of the KOTH world
Jump down into the PvP area, run to the center, and you'll find the capture area
To capture KOTH you need to stand within the purple concrete marked area
Enemies will be able to contest the KOTH by knocking the capturing player from the cap. If they manage to do this, the timer will reset to 15 minutes
The scoreboard, /koth and notifications in chat show who is capturing KOTH and the time that they have left until they succeed
If you are able to hold the capture point for 15 minutes straight, you and your Alliance will be crowned King of the Hill
The player who captured KOTH will be given a KOTH lootbag - this player will be put into combat for 10 seconds
You will need to get out of combat and then leave the KOTH world - this has another 10 second timer

Some things worth remembering:
There is no gear limit on KOTH, so be prepared to fight those in better items than your own
Custom Enchants work in the KOTH world
When you die in the KOTH world, you will lose your inventory and any XP you have on you
If you do die, you will not be able to return to the KOTH world for 2 minutes
You are not able to fly in the KOTH world
When you capture KOTH you are not safe until you leave the KOTH world by either going to /spawn or to an island!
KOTH Loot
As previously mentioned, the KOTH lootbag is full of high-end items!

This includes a KOTH grinding sword and KOTH grinding axe!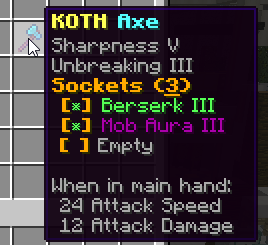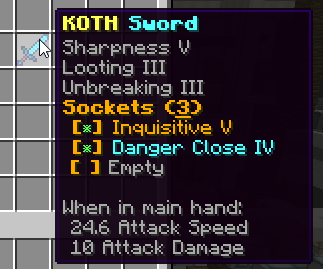 There is special armor which is ONLY available as KOTH loot, as well as a KOTH grinding sword and a KOTH grinding axe. The armor itself has some special attributes which makes the KOTH armor unique and highly sought after! There is a chance to receive chainmail, iron or diamond armor!
Armor Attributes
When you open the KOTH lootbag you are guaranteed at least one piece of KOTH armor. However, it is not guaranteed that you'll get all three of the attributes on each piece that you receive. The armor pieces will each have a chance of random % of each of these attributes:
Increased outgoing damage
Decreased incoming damage
Increased Adventure mob loot chance
NOTE: These Armor Attributes are ONLY available as part of the KOTH armor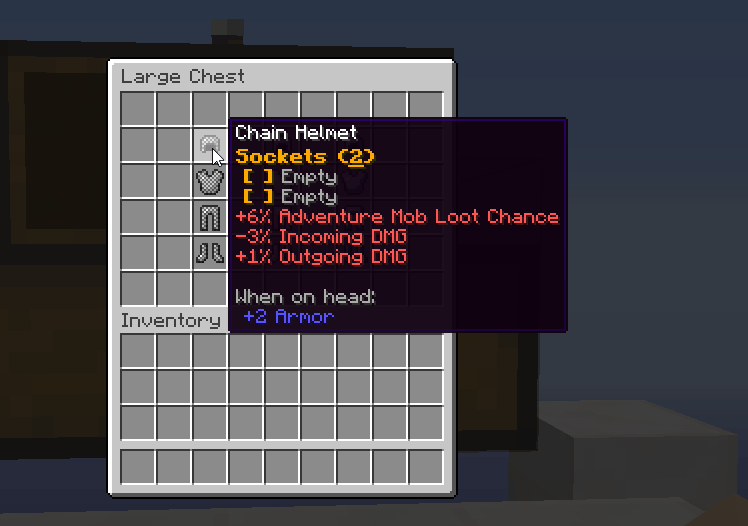 Socket Expanders
A new way to assist in making your god sets is here!

Available only from KOTH lootbags, these items are going to be extremely coveted.
You can only apply Socket Expanders to weapons and armor
The item you're applying it to needs to have at least ONE socket already on it
You cannot apply any more than TWO additional Socket Expanders - making the maximum sockets on one item THREE
To apply a socket, simply place the Socket Expander onto the desired piece of armor or weapon.
/showcase
As we're drawing closer to the end of the map, we recognise the need for you guys to be able to take some memories with you into Map 2. Now you all have somewhere to store your valuable things to keep forever!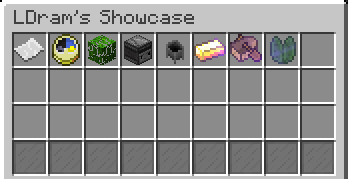 Everyone Rank 1 and above will all receive 9 slots (1 row) of showcase space
This showcase space carries over from map to map, as a way of storing your memories from the previous maps
To see what's in your showcase, simply run /showcase
If you want to see what your friend/enemy has in their showcase, run /showcase <IGN>
To add items into your showcase:
Run /showcase, making sure what you want to put in your showcase is in your inventory
Click on the item that you want to add into your showcase and click the confirmation button.
NOTE: Once the item is in your /showcase it is

UNRETRIEVABLE

. You are able to remove items from your showcase by clicking on them and then confirming destruction - but you
WILL NOT
get this item back.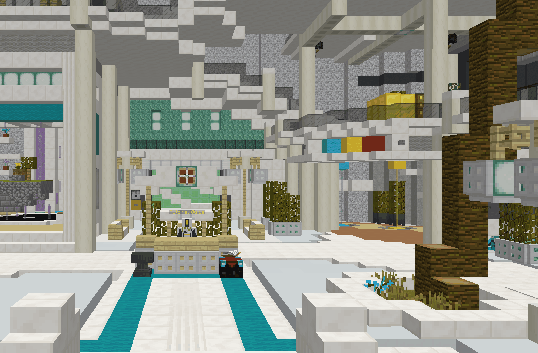 Showcase Expanders
We know that you might have more than just 9 items that you would like to be able to take with you when the map resets, so we've already introduced Showcase Expanders!

These are only available from KOTH lootbags (and this weeks' Lootbox!)
Simply right-click the Showcase Expander and you will add an extra 9 slots (1 row) to your showcase.
Then continue collecting items and adding them into your showcase!!
You need to be Rank I+ to be able to apply Showcase Expanders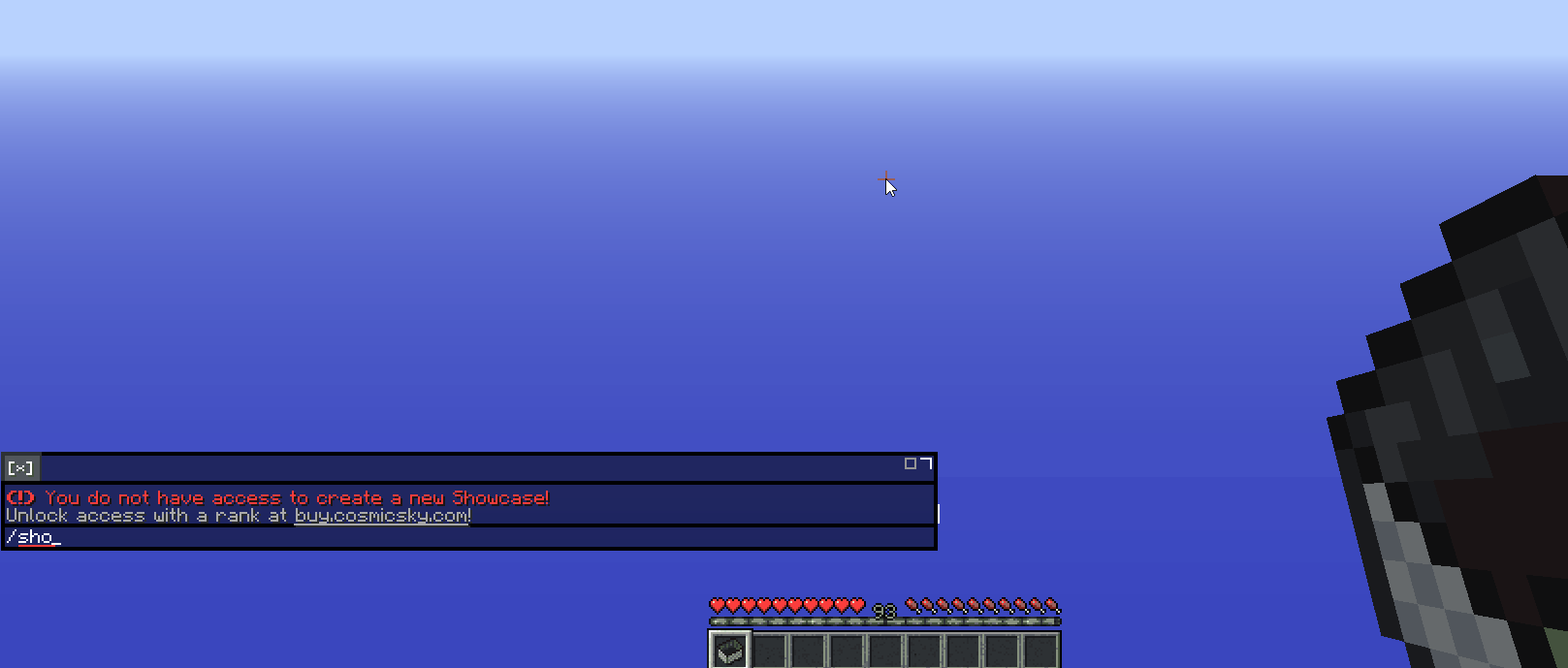 Lootbox: Godly Gifts
We have some simply awesome items in this weeks' lootbox - it's going to leave you wanting more!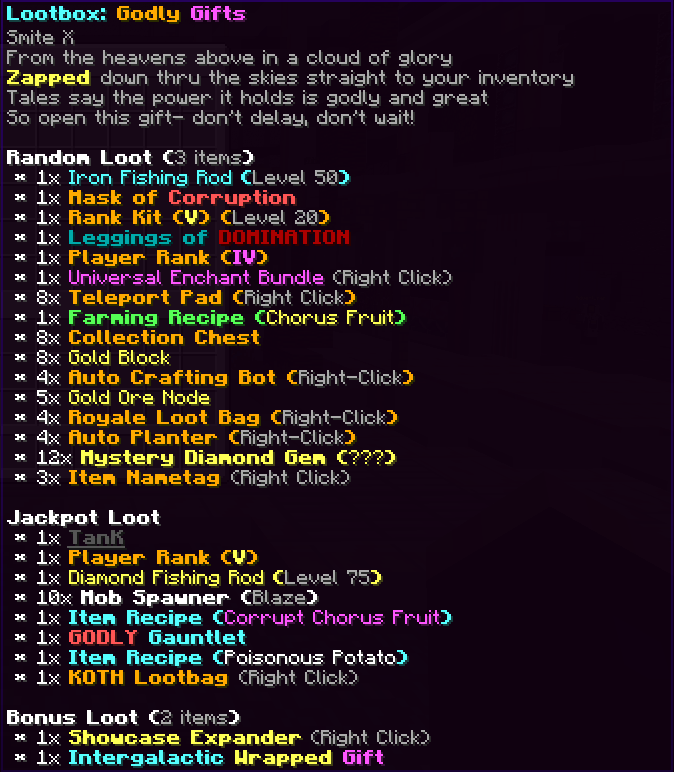 When you open this you'll be given 3 random rolls of loot, which can include any of the Jackpot Items. You'll also receive the 2 bonus items guaranteed.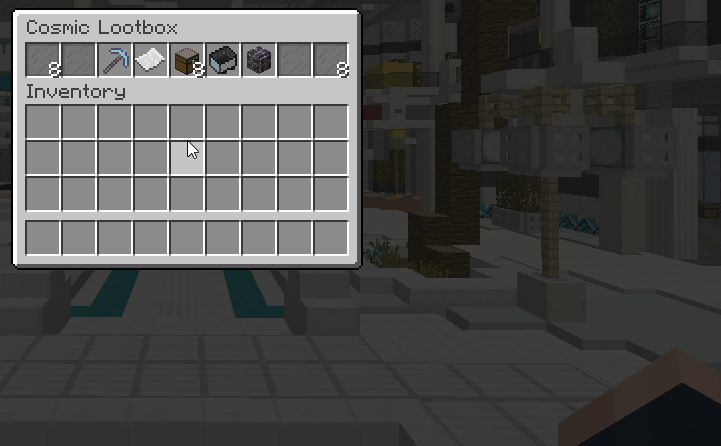 25% OFF Sale
We have some beautiful weather at the moment and a wonderful weekend of updates coming up which we know you're all going to love. To celebrate we're giving you all a fantastic
25% OFF sale
across everything on our
server store
! Be quick though, it's available for this weekend only!