Greetings Cosmonauts!
We're already a whole MONTH into the release of CosmicSky - it doesn't seem possible! Things are still as busy as ever for you guys with all your amazing islands, grinders, casinos and events. Don't worry, we're not slacking either and have, as always, been listening to the community. So it's time to grab a brew and settle in to read what we've got in store for you this week and the month to date...
Introducing: Corrupt Chorus Fruit!​
Monthly Recap​
Bug Fixes & QOL​
25% OFF Sale​
Custom Recipes
Just when you thought Chorus Fruit was the last mission to tackle for your
/is farming
, here we are with the next level- Custom Recipes!
Custom recipes are a brand new, unique system to revolutionize your island. This isn't just a simple grow and sell - there are multiple crafting steps needed to create these new custom recipes, as well as higher Island requirements. However, you're going reap the rewards, not only financially, but by being the envy of all the other islands if you're the first to get this.
Run
/is recipes
in-game to see what ones are available!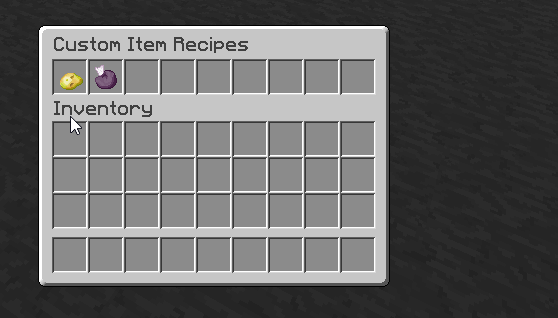 Custom recipes are typically multi-staged - so you're going to need to craft one custom item to be able to craft the main custom item to sell. The recipes themselves are not going to be easy to find, but the hunt will be worth it!
Introducing: Corrupt Chorus Fruit!
Crafted using regular Chorus Fruit and Poisonous Potatoes, this is a high tier product that sells for a pretty penny.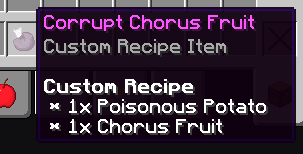 You
cannot
get poisonous potatoes the conventional way; You will need to obtain these the CosmicSky way:
The poisonous potato recipe pages are found in the Third Adventure - Demonic Realm
You'll need 9 pages to make a whole recipe, and craft this using a crafting table
To be able to redeem the recipe you need to:

Grow 5,000,000 potatoes
Mine 250,000 Coal Ore Nodes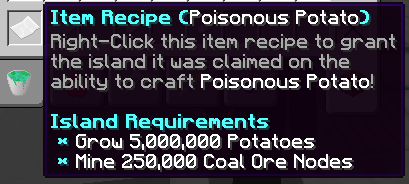 To craft poisonous potatoes, simply add 32x potatoes and 16x coal into your crafting window!
You need Poisonous Potatoes to craft Corrupt Chorus Fruit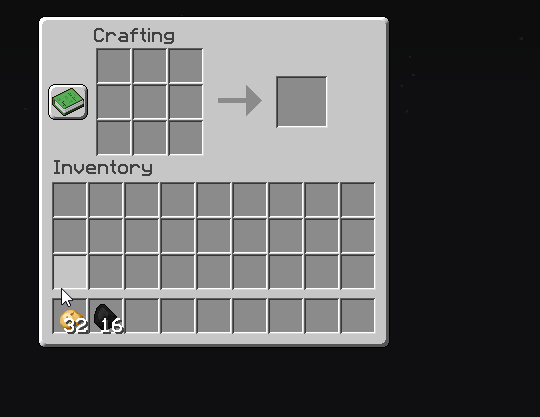 You're then going to need to grab yourself a
Corrupt Chorus Fruit
recipe.
The Corrupt Chorus fruit recipe pages are found as a chance of loot from the Battle Royale Lootbag
You need to 9 pages to craft one whole recipe in your crafting window
To be able to redeem this you'll need to:

Grow 5,000,000 potatoes (as in the poisonous potato recipe)
Mine 250,000 Coal Ore Nodes (as in the poisonous potato recipe)
Have Chorus Fruit recipe unlocked on your island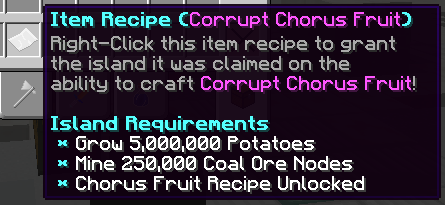 Combine 1x Chorus Fruit with 1x Poisonous Potato to make one Corrupt Chorus Fruit
Corrupt Chorus Fruit sells for $10,000 each!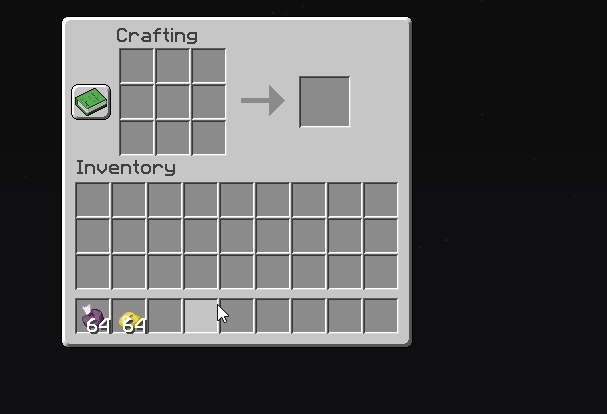 Lootbox: Sky Party
In celebration for St. Patricks Day on Sunday, we've got our own party in a (loot)box for this weekend only! Sporting some of the most coveted items in the game, as well as a little bit of fizzy pop to get us in the mood, this week's Lootbox is guaranteed to get us giddy with joy (and Space Drinks!). So what's inside... ?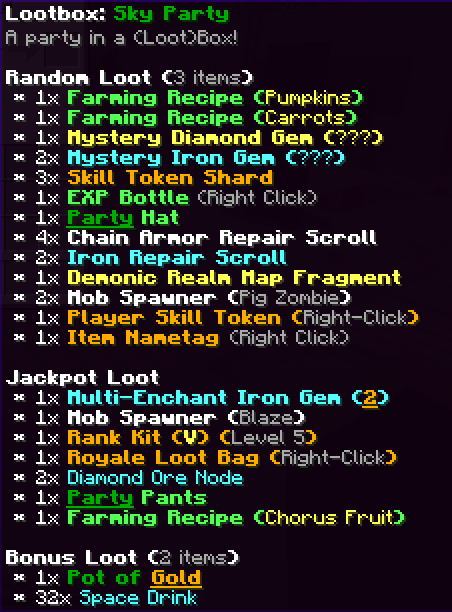 When you open this you'll be given 3 random rolls of loot, which can include any of the Jackpot Items. You'll also receive the 2 bonus items guaranteed.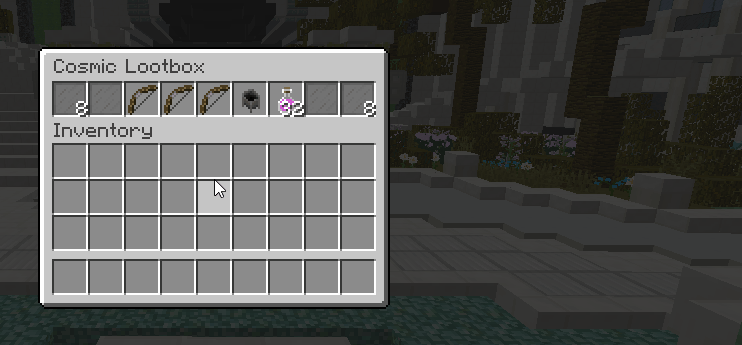 Monthly Recap
It's about that time where we take a look back at the last month to find out everything that's happened CosmicSky! Here are some of the major updates and fixes that we've just in just 4 short weeks:
CosmicSky came out of beta and was released to the public!
/is top was added
/is who was added
Permission blocks had Public Region and Harvest Resource Node options added
Combat loggers were added in an adventure if you're within 16 blocks of a neutral/enemy players
Homes were added, dependent on rank level
Auction House categories were implemented
PV customization was added
/is island info was updated to show the breakdown of your island
/rules was added in-game
Pistons were given limitations to the amount of piston pushes per chunk, per second.
Safe PvP was added to permission blocks
Mob spawners fragments were added
/enchanter and /anvil were given limitations based on membership of islands
[island] and [iswarp] were added to advertise your islands and warps
The Tutorial Island was released (/is warp ypperin)
Battle Royale was added
Bug Fixes & QOL
Despite the absolutely mad month we've had so far - including this week's update - our amazing developers still have found time to squish some bugs and make things more user-friendly:
/clearlag now correctly displays the unique entity clear that we have on CosmicSky
Corrected an issue where /syncaccount was not working consistently
Destroy Entities option on Permission Blocks no longer applies to Auto Miners
Frontend changes to /fly
Frontend changes to /help enchants
Frontend changes to /is list
Mitigated an issue with overriding homes
Mitigated an issue with the scoreboard updating balances
Mitigated various issues related to Battle Royale
Mitigated various issues related to Coin Flips
Mitigated various issues related to Flight Orbs
Rank I and II players can now join the correct amount of islands specific to their rank
The lobby selector now correctly shows all available lobbies
You are now able to craft Resource Items from Coal, Iron, and Diamond blocks
You are now able to neutral other alliances by running: /alliance neutral <alliance>
You can no longer piston push blocks outside your island radius
25% OFF Sale
To celebrate the luck of the Irish, we're giving you your own luck with a whopping
25% OFF sale
across our whole
server store!
Grab what you can now because this sale is only going to last the weekend.
Last edited: