Greetings Cosmonauts!
You all have absolutely LOVED the new Battle Royale; but we hear you when you say you want more PvP, more ways to help your island, more ways to involve your Alliance- more content! This weeks' update does all that, and more! Let's stoke the engine and get the hype train going, it's gonna be a good ride for sure ...
Outposts!​
New Enchants​
Battle Royale Capacity Expansion​
Cosmic Content Creators​
25% OFF Sale​
Outposts
There are three tiers of Outposts:
Stone
,
Iron
, and
Diamond
.
Each tier provides specific, unique and balanced buffs applied to Alliances. Outposts run constantly; No matter what timezone you are, these are available to you at all times.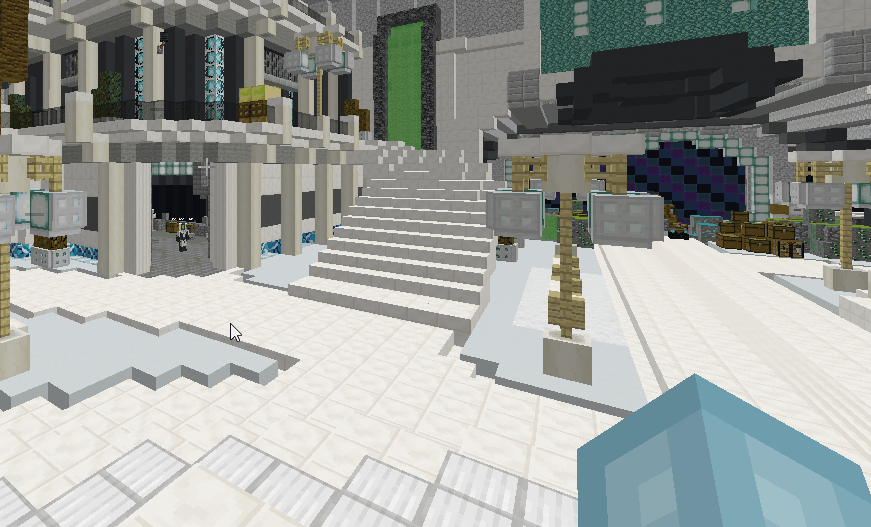 Stone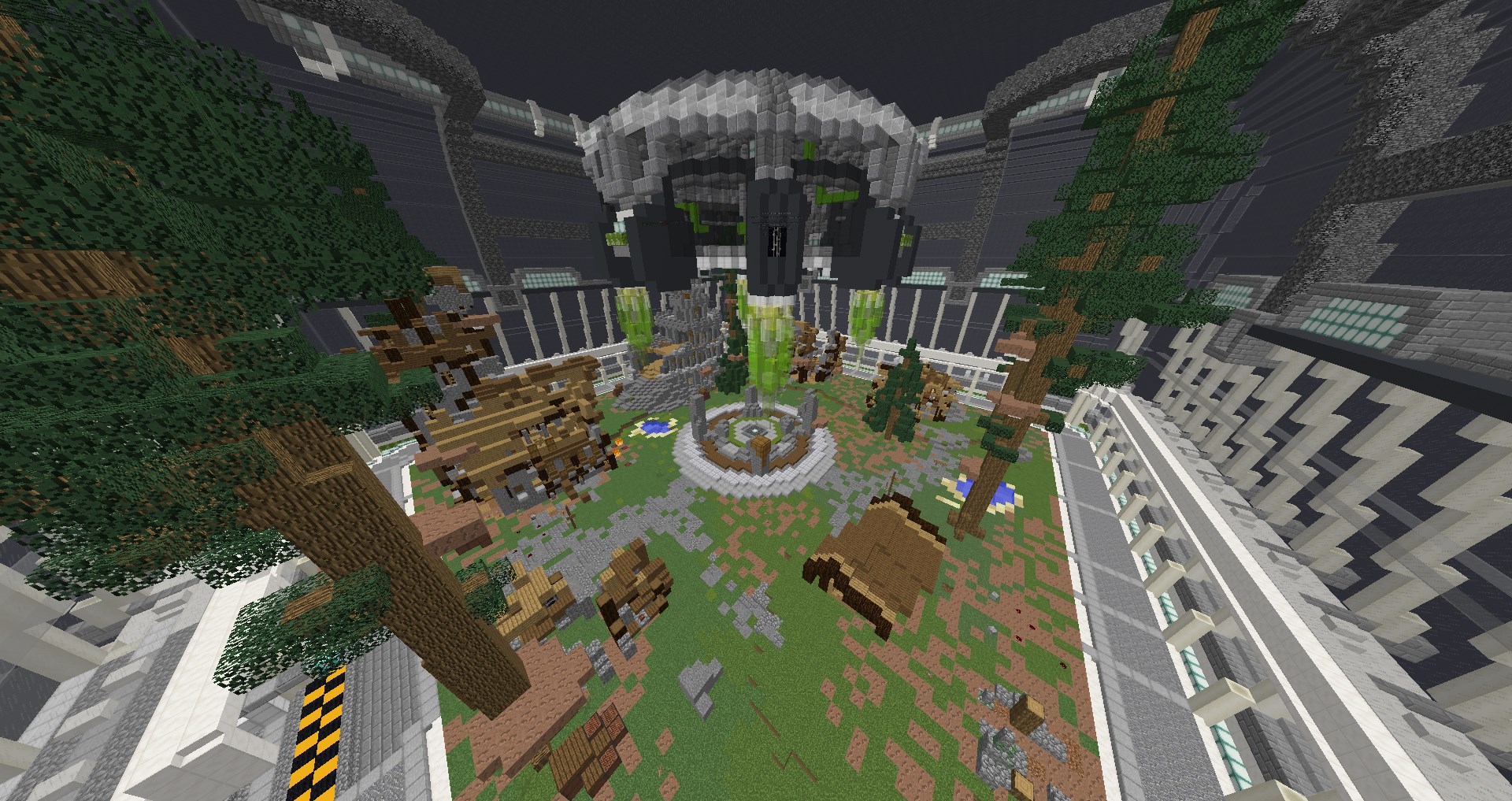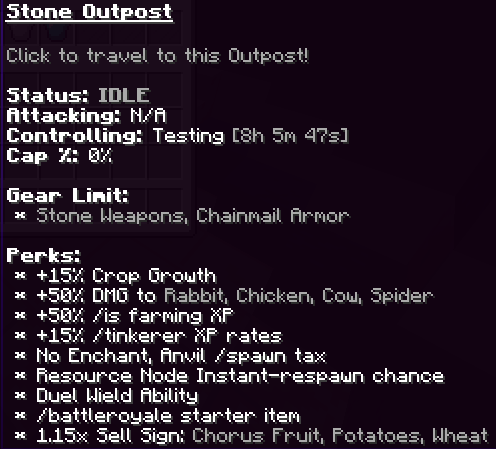 Iron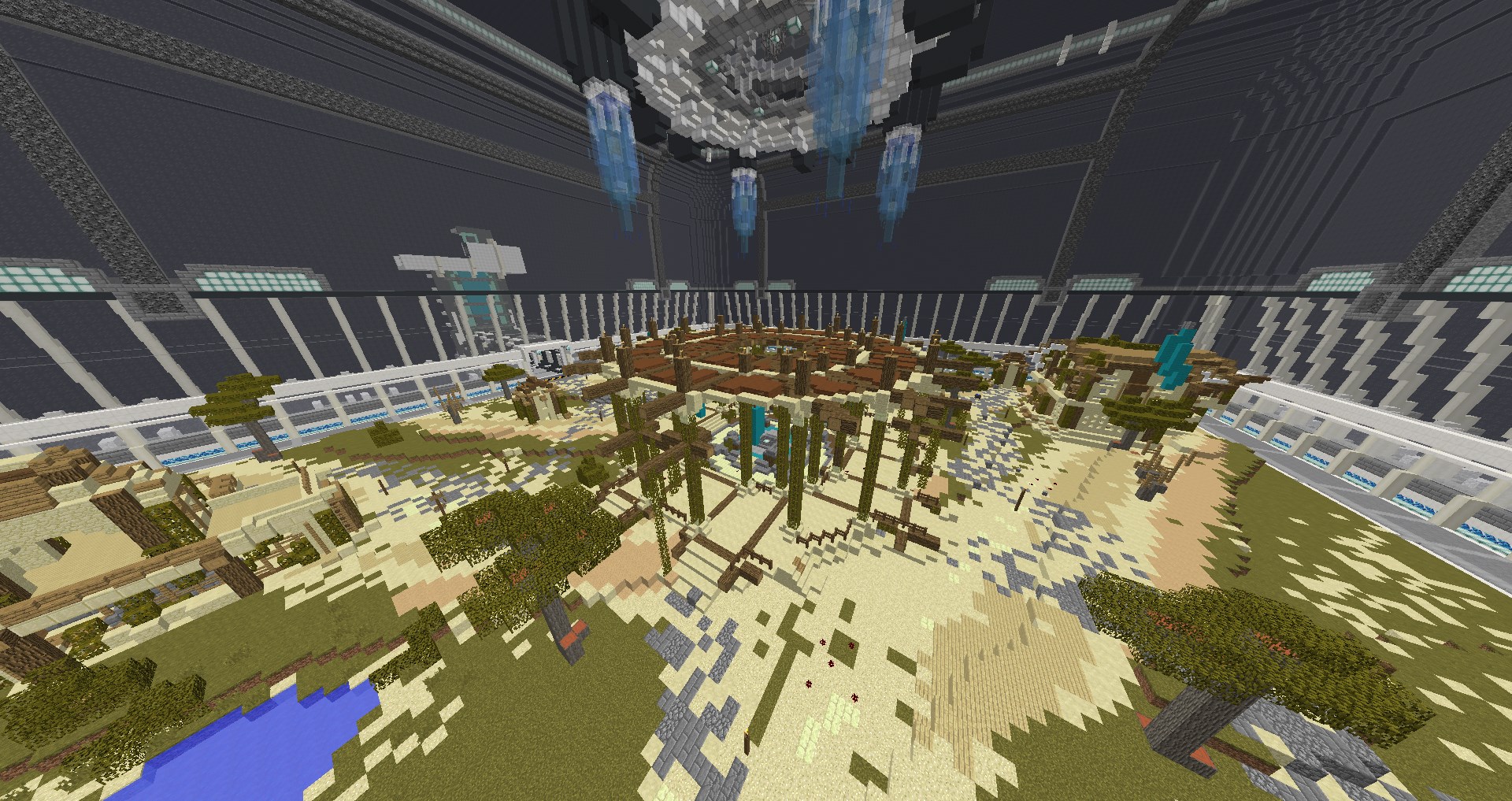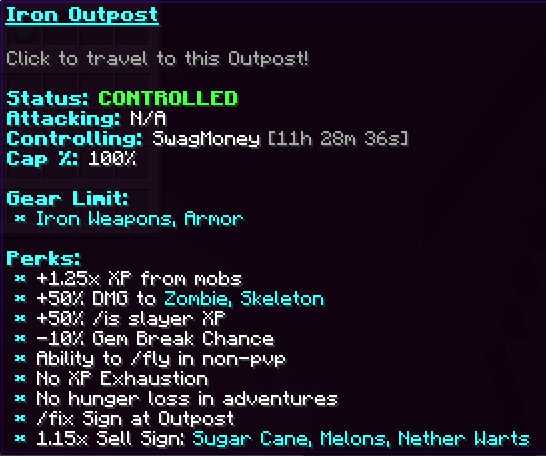 Diamond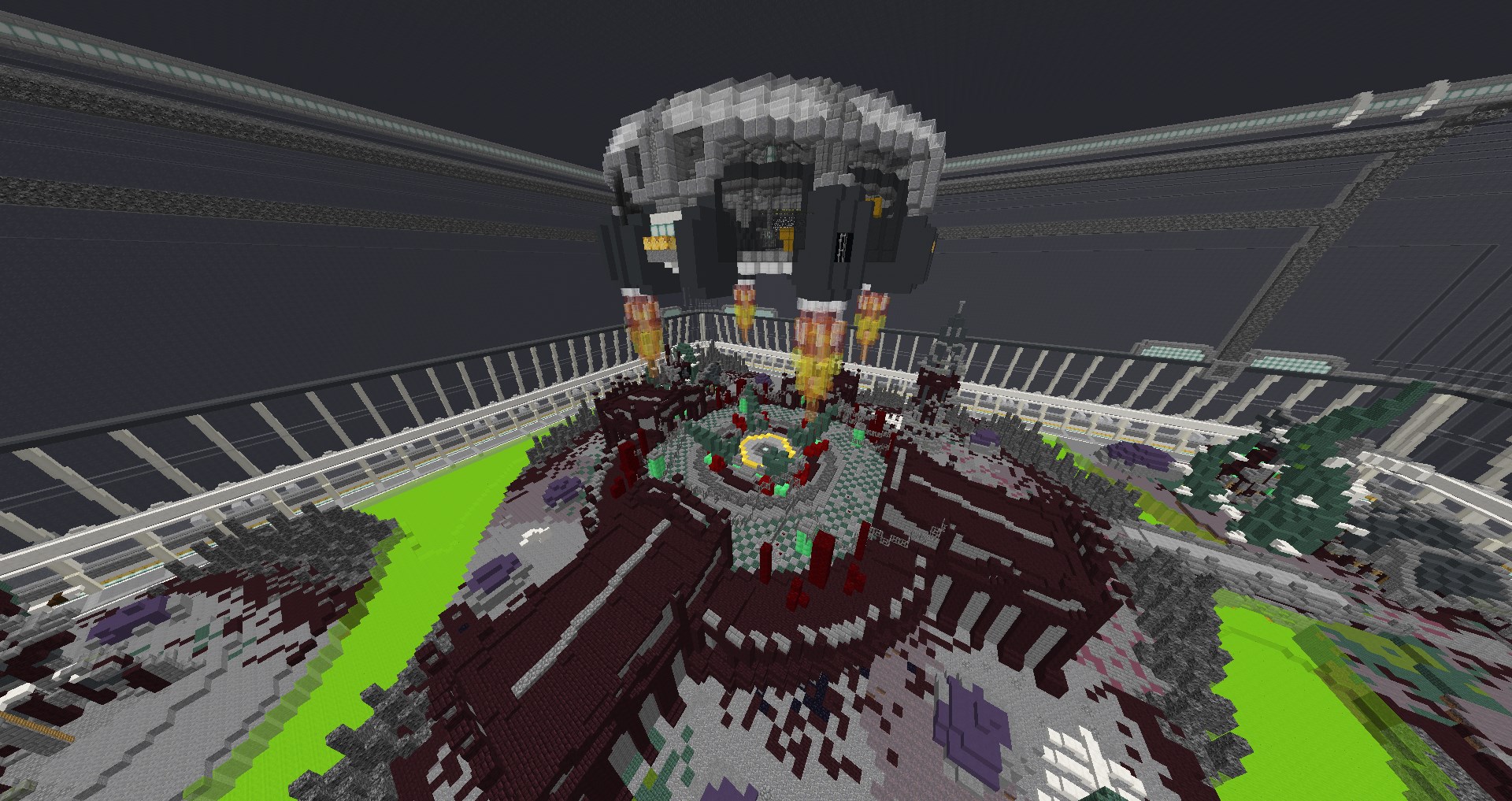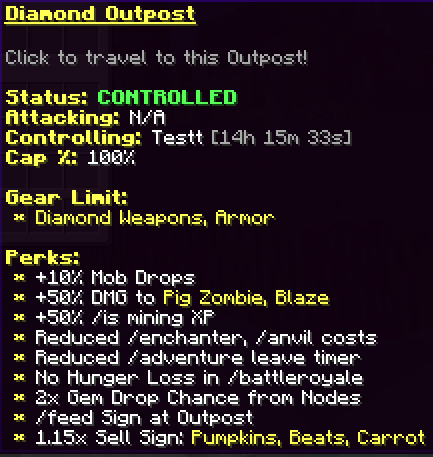 How do they work?
First of all, you need to decide which Outpost you would like- take a look at the perks above and see which one would fit most with what you require.
To capture an Outpost:
Players of the Alliance that wish to capture the Outpost must stand on the capping zone (marked by the colored wool)
The capture percentage is shown in chat in the Outpost world, as well as on the scoreboard
Anyone from any other Alliance standing on the cap will prevent you from increasing your cap, as it will show as Contested
Once fully captured to 100%, the controlling Alliance members will be able to run /o tp to have access to their Sell Room

To take an Outpost from another Alliance:
Stand on the cap until the opposing Alliance's control is at 0% - from there you can cap up to control yourself
Any Alliance except than the controlling one is able to take down the cap til 0%
The more people standing on the cap, the faster it goes down
The controlling Alliance is able to defend their cap by standing on it to block- normally whilst putting up a fight!
Each outpost provides its own individual set of perks - this is
ALLIANCE WIDE
. Everyone in the controlling Alliance has access to the perks, and they apply to every Alliance members island!
There are some things to remember whilst you're in Outposts:
Outposts, aside from the entry area, are PvP-Enabled zones
Each tier has an armor/weapon limit
Commands are limited in Outposts- i.e you cannot use /pv
Flight is not available in the Outpost world
You are only able to control one Outpost per Alliance at one time
Lootbox: Domination
We couldn't bring Outposts in and not give you something a little bit special to help you DOMINATE the competition this weekend. This week the Lootbox is bursting with epic loot and we know you won't be able to keep your hand off this!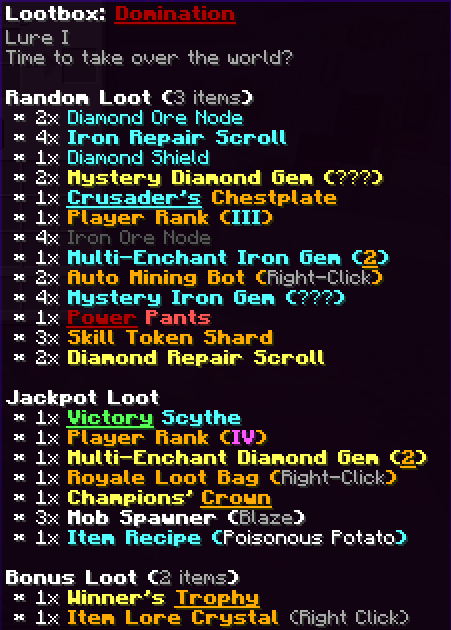 When you open this you'll be given 3 random rolls of loot, which can include any of the Jackpot Items. You'll also receive the 2 bonus items guaranteed.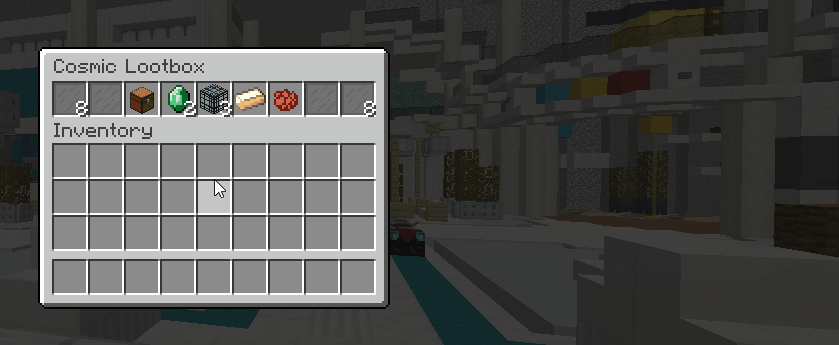 New Enchants
This week provides another installment to the arsenal of enchants available to you to help carry you to victory!
Last Stand
Helmet Enchant
Elite
Max Level: 4
Chance to negate 50% of damage from incoming attacks that would normally kill you.​
Spiked
Armor Enchant
Rare
Max Level: 2
Injures your attacker but does not affect your durability (like thorns).​
Armor Rot
Sword Enchant
Legendary
Max Level: 4
Increases durability loss on your enemy's armor.​
​
​
Battle Royale Capacity Expansion
WOW! The response to Battle Royale has blown us away. You guys and gals are hungry for those Hunger Games and something had to be done to give more of you a chance to get that epic loot!
This week we did just that- Battle Royale now supports multi-instance games.
Nothing is changing about the way that you join - you still need to wait for the time to count down, and then you click on the sword in the /battleroyale window. However, the number of players is distributed evenly between 3/4 different instances of the Battle Royale but now with a cap of 75 players and only the top 3 will receive a prize!
Just like when you join adventures, you have no guarantee of where you spawn; So when you click the Battle Royale sword there is no way to guarantee to be with your friends, which will help bring back the solo nature of the game as it is intended.
Cosmic Content Creators
As you may have noticed by now, we have a few select players with new rank tags in game- but this isn't restricted to CosmicSky and is now completely network-wide across all of Cosmic! CosmicPvP is the final Cosmic Server to implement Content Creator Ranks with
some great benefits!
Youtube and Twitch Ranks are visible in game and those who carry the tag are able to
link their channel to the rank in game making the Youtube/Twitch rank clickable!


How are Youtube / Twitch Rank Community members chosen?
Community Members that create content are selected by Owners and Administrators. This process, we understand, is subjective as it
may not require a specific number of views or subscribers
, rather it is our way of recognizing a Content Creator that:
Is active
Produces entertaining content
Has a growing community that regularly watches their content
What are the benefits of the Youtube / Twitch ranks?
Members of the community who sport the rank will have the following perks:
Creator Codes
Identifying Rank in game and unique chat color
Rank III benefits
The ability to link their channel to their rank in game
Direct Access to Server Administrators
Access to the CosmicGames Content Creator Discord
Early notification of upcoming events and confidential update information
What are Creator Codes
Members of the community wishing to show support for a Content Creator will be able to, on check out, input the Creator Code for the Youtuber or Streamer that they support!
Creator Codes
work on ANY Cosmic Server,
for example
you CAN use AngelsPvP's Creator Code on CosmicSky!


A portion of the purchase that you make will go directly to that Content Creator regardless of which Cosmic Server it is used on! ​
To use a Creator Code simply, at checkout, type the Creator Code into the slot provided then click apply.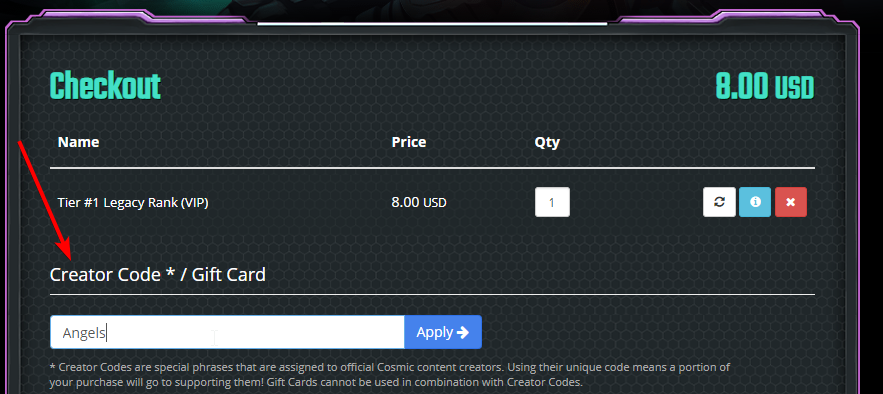 You will know that the Creator Code worked when you see the Content Creator's code below the slot: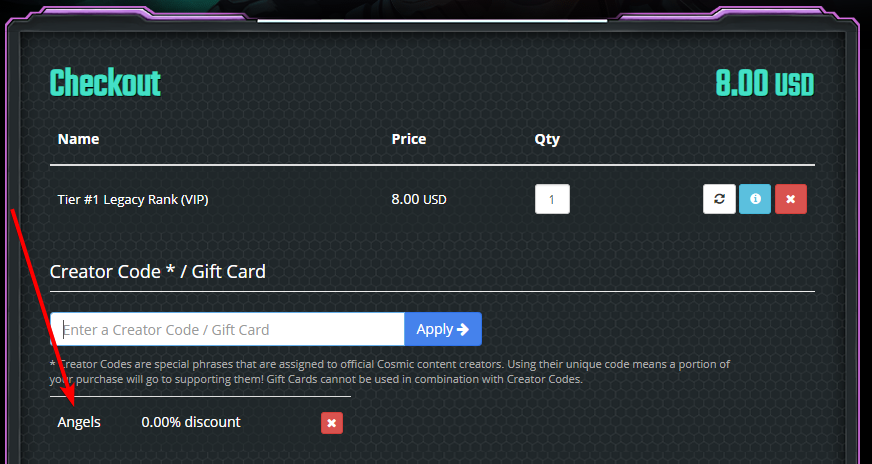 So, who are the Cosmic Content Creators?

Cosmic

PvP

Content Creators

AngelsPvP​

Creator Code: Angels​

​

clone945945​

Creator Code: clone​

​

Sean_YT​

Creator Code: Sean​

​

YourNameHere​

Creator Code: YourNameHere​

Cosmic

Sky

Content Creators

Char​

Creator Code: Char​

​

Cookay89​

Creator Code: Cook​

​

Sal__​

Creator Code: Sal​

​

GundleTv​

Creator Code: Gundle​

​

WhiskeyBravo92​

Creator Code: Whiskey​

​

Mekzz​

Creator Code: Mekz​

Cosmic

Prisons

Content Creators

Sal__​

Creator Code: Sal​

​

EpicTransitions​

Creator Code: EpicTransitions​

​

Tatorminator88​

Creator Code: Tator​

25% OFF Sale

It wouldn't be fair to end off such an epic update week without a little gift to you all - so head over to the

server store

now where there will be a VICTORIOUS

25% OFF

sale on everything! Make sure to take advantage now- it's only going to be about for the weekend!
Last edited: