Greetings Cosmonauts!
It's Memorial Day weekend. A time to spend together and to remember and honour the fallen. To celebrate we've got a surprise post today! Settle in for a treat, it's gonna be good.
Lootbox: Special Edition (
4

ITEMS!)
​
​
Lootbox: Special Edition (
4

ITEMS!
)
For the Memorial Day only, this Lootbox is full of some absolutely awesome goodies.
*** For a

Memorial Day weekend special

we're giving everyone who purchases a 3x Lootbox Special Edition pack a

FREE

FARMER BOB! Check out the server store to purchase it while you can!
​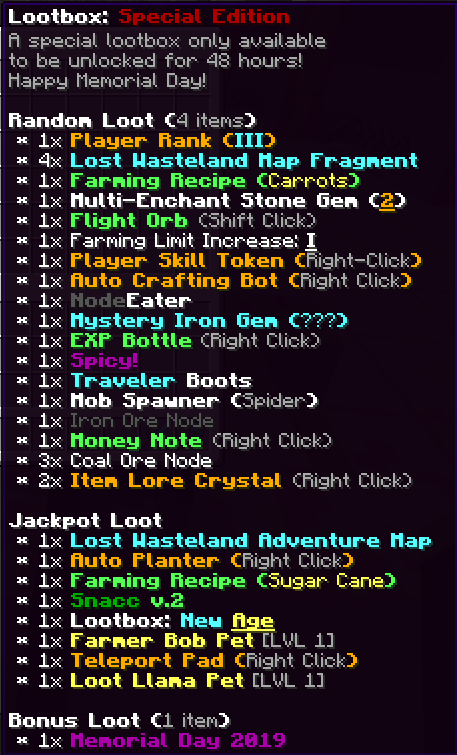 When you open this you'll be given
4
random rolls of loot, which can include any of the Jackpot Items. You'll also receive the 1 bonus item guaranteed.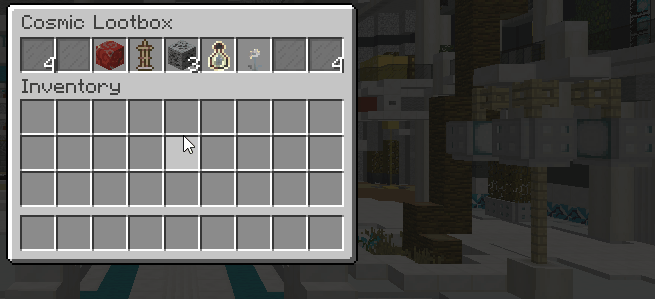 Farmer Bob Pet
Our Loot Llama pet was a smashing hit, and so we have brought you something else new for the Memorial Day itself!
Farmer Bob is a hardworker- not only is he a cute little farmer villager, but he's also an amazing crop grower!
Left-click to summon your pet, and punch it to send him away!
Right-click with the pet in your hand to FULLY GROW the crops

It has a 20-minute cooldown
Each time you use the pet to grow crops, it gains XP

Once the pet has gained enough XP, it will level up.
Each level up increases the size of effect of the growth

Level 1 (base) - 5x5x5 growth area
Level 2 - 7x7x7 growth area
Level 3 - 9x9x9 growth area

60,000 EXP for fully levelled up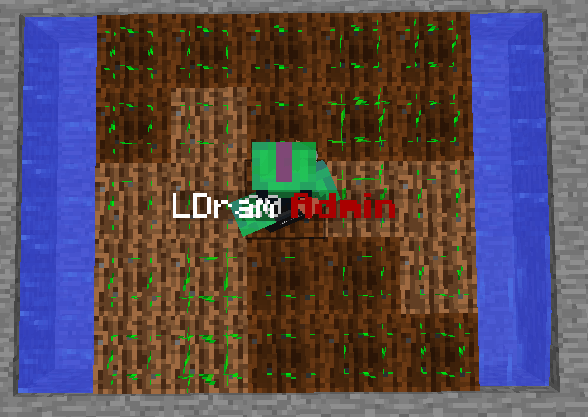 Farming/QoL Tweaks
We're already two days into the map, and we're already making sure that we're listening to you all about everything farming. We've already made some tweaks and changes, but we're definitely still listening to you all, so if you have any suggestions feel free to post them in the
suggestions forum
!

The daily quota for wheat has increased from 500 to 1000
There is a notification pop up in chat when you achieve your daily quota for any crop

You can continue to plant these crops but they will not grow until you've either added Temporary Limit Increasers, or the day resets
After the initial pop up message, you will receive notifications above your action bar!

The Farming Quota Cap increase for the following day has been changed for when you achieve your quota goals

For single crops, the farming quota for the next day has increased from 5% to 10%
For all unlocked crops, the farming quota for the next day has increased from 10% to 15%

The time until the Farming Quotas Reset is now shown in the /is farming GUI
/help fishing has been added to help new players understand the new skill.