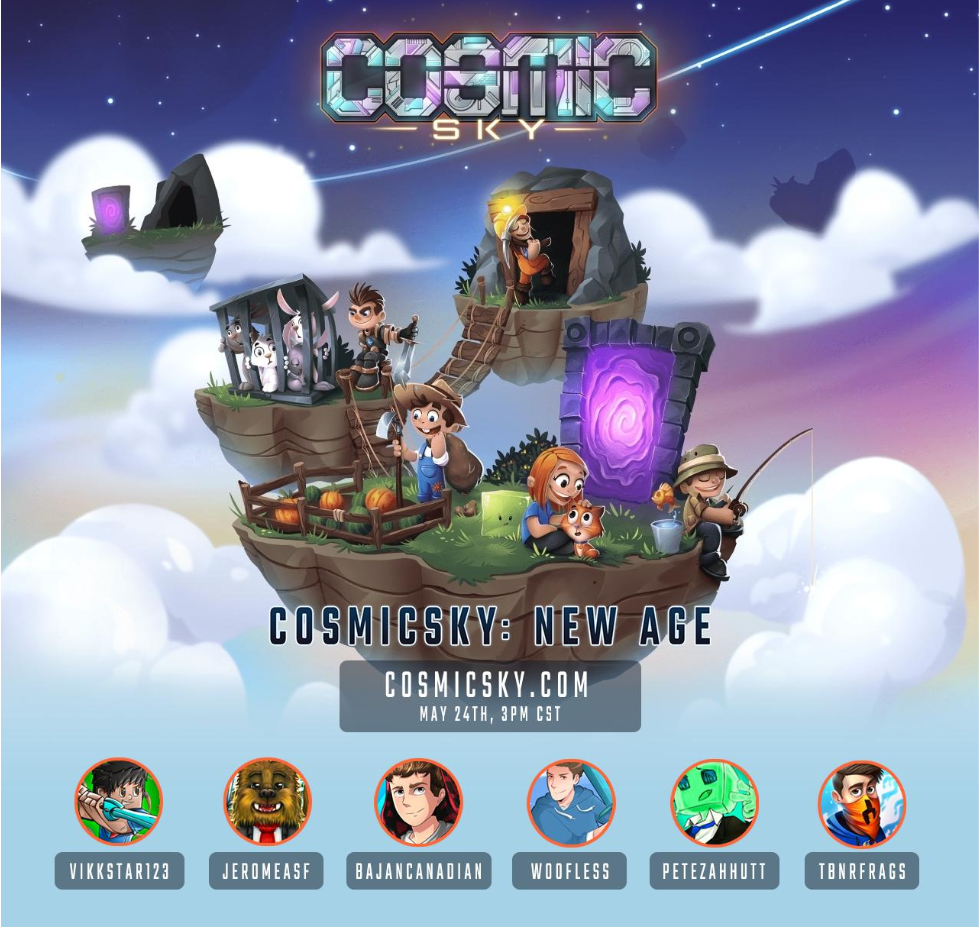 CosmicSky Map #2: New Age
Map 2 SOTW: May 24th 2019 3pm CDT / 9pm BST / 6am AEST
IP:
cosmicsky.com
(if your timezone isn't shown, please use the times above to convert to your timezone
here
)​
Greetings Cosmonauts!
As promised, I've got a juicy post detailing all the specific areas of Map #2, which I know you're all desperate to sink your teeth into! This is going to be a nice and long one, so make sure you've got some snacks to keep you going! The original announcement post for the reset can be found here!
NEW /is list​
Island Rating​
Player Portals​
Island Upgrades​
Inventory Pets​
Heroic Adventures​
Farming Quotas​
NEW /is top​

​
YouTubers
Here we go! We teased this in the reset announcement but we can officially give you the details!
Please join me in welcoming:
Who will be joining our very own Woofless and TBNRFrags!
These guys aren't strangers to Minecraft by any means, and they're absolutely stoked be able to join you all to start their own CosmicSky journey!
The YouTubers will be going
head to head
with each other, and YOU!! Who will reign supreme?
Which YouTuber will dominate? Check
/yt top
to see how they are stacking up!

NEW /is list
We've completely revamped /is list, meaning it has more functionality and use!
Hosting public grinders? Got a crazy Casino? As long as you have 1 player physically located on your island your /is warp will now show in /is warp list!
/is list is now directly linked to your /is warp
Islands are listed in order of highest /is rating first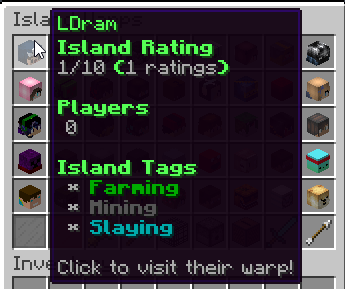 Pre-defined Island Tags
Additionally, you will be able to add
pre-defined Island Tags
to your /is warp listing!
Select which features you want to advertise:
Farming
Mining
Slaying
Casino
Roleplaying
PvP
You will be able to take these pre-defined category tags and
use them as filters in the /is warp list!
Simply decide on which category you'd like to see - say, Casinos!
The /is warps menu will filter all the results by those that have the Casino tag
You'll be provided with a list of every island that has given themselves the Casino tag.
This allows you to better decide which island you'd like to visit!
Setting the filters
Type
/is tags
. A GUI will appear and you will be able to choose which category to assign to your /is warp.
You can have multiple categories assigned to your island
To change the categories shown, simply repeat the above steps!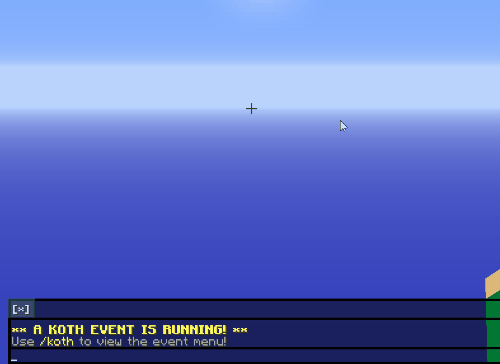 Island Rating
Come across a fantastic island or think a Casino is rigged? Let everyone know with Island Ratings

Island ratings are a new and fun way to show people how much they've enjoyed (or not!) your island! Just visit someone's island and run
/is rate
and choose a rating between 1 and 10!
Some things to note about island rating:
You must be a minimum of /is level 2 to rate islands
You need to be stood on the island to /is rate it
You can rate an island between 1 and 10
The island rating shows on /is list
You are able to change your /is rate score once every 24hours
The islands will appear in order of highest rating first on the /is list

Player Portals
Whoooosh, an exciting new way to bring players to your island- this is a physical /is warp!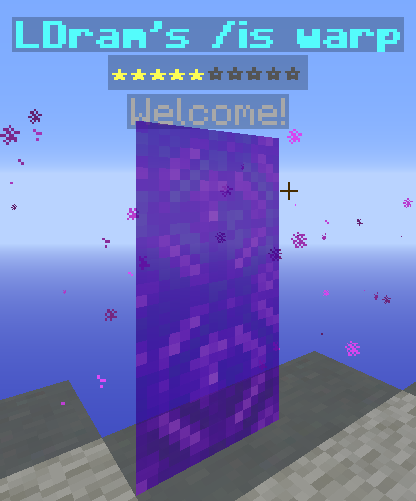 Player Portal Basics
To summon a player portal, you need to have an /is warp set

To do this, type /is setwarp where you'd like players to spawn in!

You are able to summon Player Portals on islands UNLESS

A permission block is placed to block

Specific people added to the permission block
Everyone, except Island members if the Public Region pane is selected

Any portal you place will automatically connect players to your /is warp
There will be a hologram above the portal which displays

The warp location: e.g LDram's /is warp
The current /is rating
A custom description that you can set when you summon the portal

You can use /toggle to prevent yourself from being teleported by Player Portals

Just toggle the "Toggle Player Portal Travel" pane off
Portal Cooldowns
Placed portals will remain active for 60 seconds
You can only place 1 portal every 120 seconds
Player Portal Placement Locations
At /spawn, excluding the immediate spawn-in location
On other players islands
On your own island
Island Upgrades
So you've got your Island, but you want more out of it? Island upgrades are here to give you that extra clout compared to others!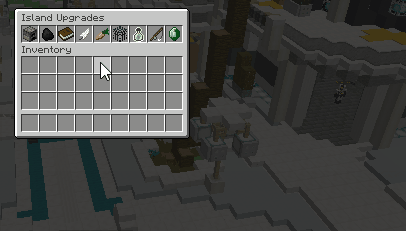 Simply type
/is upgrade
to access these awesome Island Upgrade Features!
This GUI will give you the option to boost many different ways on your island when you purchase them!
Each /is upgrade has tiers that you are able to purchase, further increasing each /is upgrade better.
Increases smelting speed - Increase the time it takes for your island furnaces to smelt an item.

Tier 1: 5% Faster
Tier 2: 10% Faster
Tier 3: 25% Faster
TIer 4: 50% Faster

Increased Furnace Fuel Efficiency - Burn fuel more efficiently for a longer burn time per item!

Tier 1: 5% Less
Tier 2: 10% Less
Tier 3: 25% Less
Tier 4: 50% Less

Increased Member Limit on Island - Increase the maximum amount of members you can have on your island.

Tier 1: +1 Member
Tier 2: +2 Member
Tier 3: +3 Member
Tier 4: +4 Member
Tier 5: +5 Member

Flight on Islands - Allow /fly on your island!

Tier 1: Alliance Members Only
Tier 2: Truces and Alliance Members
Tier 3: Anyone on your island

Increase Daily Farming Limit - Increase the amount your daily farming restrictions are raised after each day crops are grown to 100%.

Tier 1: 1% Increase
Tier 2: 2% Increase
Tier 3: 3% Increase
Tier 4: 4% Increase
Tier 5: 5% Increase

Increased Mob Spawning - Increase the rates mobs spawn from spawners.

Tier 1: 1.10x Mob
Tier 2: 1.25x Mob
Tier 3: 1.35x Mob
Tier 4: 1.5x Mob

Increased Mob Spawner EXP - Increase the XP dropped from Mob Spawner mobs

1.10x Mob XP
1.25x Mob XP
1.35x Mob XP
1.5x Mob XP

Increased /fishing Treasure - Increased chance to receive Treasure from fishing.

Tier 1: 2.5%
Tier 2: 5%
Tier 3: 7.5%
Tier 4: 10%

Increased Gem Find - Increased chance to receive gems from mining.

Tier 1: 2.5%
Tier 2: 5%
Tier 3: 7.5%
Tier 4: 10%
Some important things to remember
You need to be on the island that you want to upgrade

If you're on your island, you will upgrade your island only, not the others that you are a part of

Only Owners and Co-leaders of islands are able to purchase /is upgrades
There is no way to remove /is upgrades once they are purchased
Farming Quotas
We've taken a good hard look at the way that /is farming has progressed throughout Map #1, and some serious changes have been made.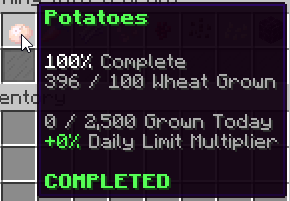 Firstly, we've
reorganised the order of the crops in /is farming
has been changed to correctly represent the ease at which crops are able to be farmed.
/is farming level 1 = Wheat
/is farming level 2 = Potato
/is farming level 3 = Carrot
/is farming level 4 = Sugar Cane
/is farming level 5 = Beet Root
/is farming level 6 = Nether Wart
/is farming level 7 = Melon
/is farming level 8 = Pumpkin
/is farming level 9 = Chorus Fruit
The amount of
crops needed to unlock the next tier
has also been adjusted.
Wheat
Potato
Carrot

2500 Potatoes Grown
Carrot Recipe

Sugar Cane

15,000 Carrots Grown
Sugar Cane Recipe

Beet Root

75,000 Sugar Cane Grown
Beet Root recipe

Nether Warts

100,000 Beet Root Grown
Nether Wart Recipe

Melons

250,000 Nether Wart Grown
Melon Recipe

Pumpkins

5,000,000 Melons Grown
Pumpkin Recipe

Chorus Fruit

7,500,000 Pumpkins Grown
Chorus Fruit Recipe
In addition, we also now have
/is farming quotas
.
Essentially these are goals that you want to be aiming towards to get the most efficiency out of your /is farming!
Quotas are per day
Once you've reached your quota for the day, you'll be notified in chat to say you've achieved your goal!
For every day you hit your farming quota for each crop, you'll increase the goal to aim for the next day by 5%

So if you have a quota of 500 wheat per day, and reach that, the next day your goal is to farm 525 wheat

If you reach your goal for all of your unlocked crops, you'll increase the goal for the next day by 10%!
Wheat
Potato
Carrot
Sugar Cane
Beet Root
Nether Warts
Melons
Pumpkins
Chorus Fruit
Farming Limit Increasers
You are able to have a chance to increase the daily quota temporarily by killing
Adventure mobs of the appropriate tier
for each crop.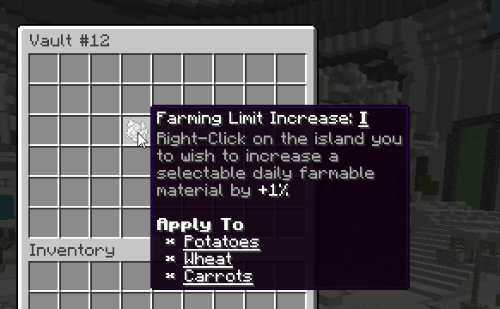 The Adventure mobs have a chance to drop a Farming Limit Increaser
Right-click this token to choose which crop you'd like to redeem it on
Each token you apply will increase your daily quota of the chosen crop quota of that tier by X% (dependent on the value of the increaser)

For example:

So if you are at 15,000/15,000 sugar cane grown, head into the Lost Wasteland Adventure
Kill mobs in that Adventure until the Farming Limit Increaser II drops as loot
Go back to the Island you want to redeem it on

You must redeem the token on the island that you would like it to take effect
The tokens are able to be dropped when you die - so be careful in the adventures!
The tokens are able to be traded and sold on the /ah
There is a max redemption of up to an additional 100% per day
Abandoned Ruins
Lost Wasteland
Sugar Cane
Beet Root
Nether Warts
Demonic Realm
Melons
Pumpkins
Chorus Fruit
Inventory Pets
Ever wanted to have bonuses
AND
a cute little friend to accompany you? Inventory Pets are cute little companions that you carry about with you. Not only do they walk your journey with you, but they also provide you with some cool buffs/effects that you can use.
This week we're introducing our first Inventory Pet - the
Loot Llama
!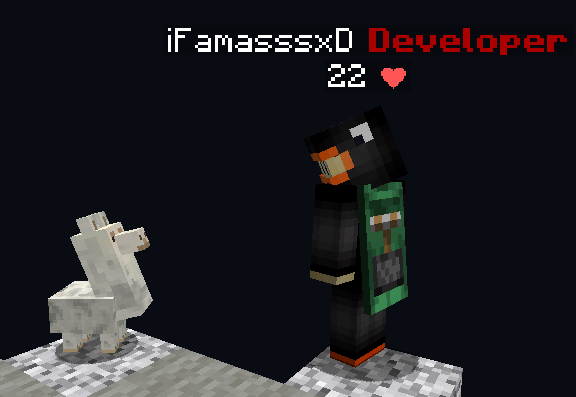 The Loot Llama
When you right-click this little dude in your hand, he'll give you a random piece of Adventure loot appropriate to his level.
The Loot Llama has a 24-hour cooldown
Each time you use the pet to redeem your daily loot, your pet will gain 100 XP
When it has gained enough XP, it will level up
The Loot Llama has 3 total levels

Each level of the Loot Llama represents each tier of Adventure

If your pet is level 1, you'll receive loot relative to the Abandoned Ruins
If your pet is level 2, you'll receive loot relative to the Lost Wastelands
If your pet is level 3, you'll receive loot relative to the Demonic Realm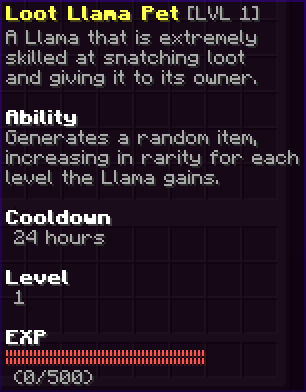 Heroic Adventures
The next level in Adventures!
We have Adventures, but we're going to be introducing the next level- Heroic Adventures! These will be harder, but the rewards reflect this as the loot is a LOT better!
There is some important information to know about Heroic Adventures:
Elites will spawn more readily in Heroic Adventures
You will not be able to join non-heroic Adventures once you've unlocked the Heroic version
More details will be available in due course!
NEW /is top
Island Top has had a full revamp to reward you for all your hard work and effort!
You'll now see that /is top is now sorted a little differently, and in order of priority of:
Island Level
100% Spawner value, plus

Island Profit in the last 24 hours

Island profit is calculated by the value of all the farming and mobs drops that spawned on the island in the last 24 hours.
The more you hit your goals, the higher your Island Profit will be!

NEW Economy Changes
After a lot of discussions and deliberating, scouring of the suggestion forums and reading your messages in in-game chat, we've had a pretty hefty overhaul of all things economy based.
Shop Price Changes
The sell price of melon has been reduced from $135 to $35
The sell price of pumpkin has been reduced from $200 to $55
The purchase price of pistons has been increased from $1000 to $10,000
The purchase price of sticky pistons has been increased from $2500 to $25,000
The purchase price of observers has been increased from $4000 to $20,000
You are able to sell Iron Ingots for $2000
You are able to sell Diamonds for $75,000
Rank Kit Changes
The amount of items obtained from your /kit rank has been reduced.
The /kit rank will still correctly scale with level and progression.

A Rank V, level 8 kit is still better than a Rank IV, level 8 kit
Adventure Loot Tweaks
Each day the map progresses, the amount of money and EXP that can be found in the Adventure chests increases accordingly.

The value of the money notes and EXP bottles that are found in all of the three non-heroic Adventures have been buffed significantly.

Adventure 1

Up to $1,000,000 by day 50
Up to 10k XP by day 50

Adventure 2

Up to $5,000,000 by day 50
Up to 50k XP by day 50

Adventure 3

Up to $20,000,000 by day 50
Up to 250k XP by day 50

The chest loot in Adventure has been MASSIVELY BUFFED

The loot inside the chests has been made so that each chest is worth looting!

No more 2 pieces of bread!
No more cookies!
No more single arrows - you'll receive an amount worth using!

Adventures mobs now drop money when killed
Science Level Requirements
Whilst towards the end of Map #1 we did allow access to Science items at an early stage, we're now reducing the /is level restrictions
even EARLIER!
They are available as loot from
Battle Royale lootbags
and
the /science shop
.
/is level 5 (2 Auto Planters, 2 Collection Chest)
/is level 7 (2 Teleport, 1 Auto Crafters)
/is level 10 (8 Auto Planters , 8 Collection Chests)
/is level 12 (8 Teleport Pads, 8 Crafting Bots)
/is level 15 (20 Auto Planters, 20 Collection Chests)
/is level 17 (20 Teleport Pads, 20 Crafting Bots)
/is level 19 (Infinite Auto Planters, Collection Chests)
/is level 20 (Infinite Teleport Pads, Crafting Bots)
There has also been a number of additional changes relating to Science!
The /is level 19 requirement for using the /science shop is still in place
The gold required to level up the Auto Bots has been removed
The bots will now display in their overhead nameplate the current level that they have been upgraded to
The Auto Crafter UI has been updated to be more consistent with the other bots
/is skill Island Level requirements
To assist in the balance of the map progress overall, we have implemented /is level goals for the next levels of /is skills - fishing, mining and slayer.
You will still need to fulfill the requirements of the previous tier to unlock, as well as having the level requirement
/is fishing level requirements

/is level 5 - Salmon
/is level 8 - Clownfish
/is level 12 - Pufferfish

/is mining level requirements

/is level 6 - Iron
/is level 9 - Diamond
/is level 14 - Gold

/is slayer level requirements

/is level 2 - Chicken
/is level 3 - Cows
/is level 7 - Spiders
/is level 10 - Zombies
/is level 11 - Skeleton
/is level 12 - Pig Zombie
/is level 13 - Blaze
Additional QOL Tweaks
There are also a few other little changes that we've made to help make things a little more streamline for you all!
You'll gain a faster TP timer with the more EXP on your player
The TP out time for Adventures is now 20s (from 60s)

For Rank V, this is now 10s (from 30s)
There is a minimum TP time of 5s

The hunger loss has been significantly reduced by 50% in non-heroic Adventures
Spawner Mobs now have a greater chance of dropping Mob Spawner shards of the type you're killing, as well as a chance of dropping a shard of the next Spawner tier!
Mob Spawners have had their /is top value increased significantly, with 100% of the value adding to /is top value

Rabbit = $5,000
Chicken = $25,000
Cow = $50,000
Spider = $100,000
Zombie = $1,000,000
Skeleton = $2,500,000
Pig Zombie = $5,000,000
Blaze = $10,000,000

[*][*][*][*][*]

An additional sapling has been added to /kit starter, to counter those annoyances where your first tree grown doesn't give back a sapling
/br is now an alias for /battleroyale
/gem is now an alias for /gemforge
Players names in chat will reflect the colour of their rank to help identify players more easily
Battle Royale Lootbags will now have a chance to drop any of the Science machines amongst the pre-existing loot
/is challenges have been updated to include another 9 challenges!
/is challenges now have more informative text to guide those that are new and unaware of how things work
/playtime has been added as requested
CF tax has been adjusted to 8% for Rank IV and below, and Rank V now has a 5% CF tax
Frontend changes to /reputation points
The 3rd PvP /Skill: 50% Chance to Ignore Shields has been replaced with Shield Reflect

You now you have a chance to reflect incoming whilst blocking with your shield!
Recent Patches
For any of the previous recent patches you might have missed, please see below!