Greetings Cosmonauts!
The Team BR has definitely been a hit with you all! We've got a lot more updates this week to make your BR experience that much more fun, as well as the usual great additions to what is proving to be an almighty amazing map. We'd just like to say that we really appreciate the continued support, suggestions and feedback from you all. This map has definitely exceeded our expectations, and the amount of positive feedback from you all has been outstanding! Anyway, let's get right into it!
New Battle Royale Maps & Game Rules
​
New Enchant: Loot Magnet​
Slot Bot Changes​
CosmicClient Combat Text​
Auto Crafting Bundled Items​
QoL and Bugfixes​
New Battle Royale Maps & Game Rules
We're spicing up Battle Royale with new rule sets, new maps and new loot!
For the solo BR and the Team BR, there will be a chance of
1 of 5 different rules
that will be available to play! We've also introduced
HD maps
for the
CosmicClient
, as shown below!
Need for Speed​
​
​
The border shrinks twice as fast
All players get passive Speed 1 and Jump 1 for the whole match
Overload​
​
​
You will receive +2 HP for every kill you get!
Loot Goblin​
​
There will be 3x loot in all chests
RNG​
​
​
Players do not drop loot on death. Instead, a chest spawns filled with a random number of items which gets better as the match progresses
Martyrdom​
​
​
A charged creeper spawns at the location of any player that dies

This will not destroy dropped items

On explosion, it will not damage the player/team that killed the player
We've also implemented some other global changes to make BR that much more interesting and fun to play!
Sharpness II is now a lot rarer to find in a chest
The border will do more damage the closer to mid it is
Players will deal 2x more damage if the border is less than 25 blocks away, and 3x more damage if the border is less than 5 blocks from final closure
The chests now spawn every 15-30 seconds, as they were previously too often!
Splash potions will no longer be usable if you're outside of the world border
There is a small chance to receive selected pets, masks, gapples and strength/speed potions as loot in chests!
For the first 10 seconds that you are in a match, you will receive 10 seconds of PvP invincibility
Battle Royale Loot Upgrades
We've decided to remove the Battle Royale Lootbag for the first place winners in Solo/Team BR
First place will receive

1x Slot Bot Ticket and a rank kit

Second place will receive

2x Slot Bot Scraps and a rank kit

Third place will receive

1x Slot Bot Scraps and a rank kit
First place team will each receive

1x Slot Bot Ticket and a rank kit

(NEW) Second place team will each receive

1x Slot Bot Scrap
Slot Bot Scraps
Slot Bot Scraps can be combined to create a Slot Bot Ticket - you just need to use 9 together in a crafting window and you'll get yourself a ticket to roll!
FightTheFires.com Koala Skin
I'm sure you've all heard about the absolute tragedy of the Australian bushfires. We'd like to take this opportunity to extend our thoughts, love and hope to everyone who has been affected by this. We know that you all, the community, will join us in uniting to provide as much support as we can.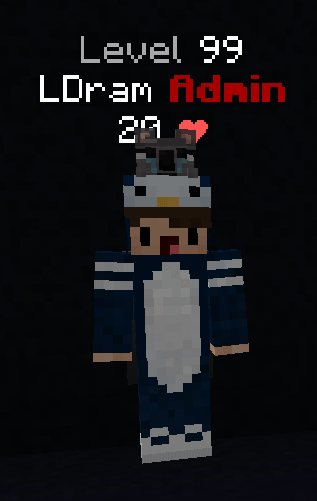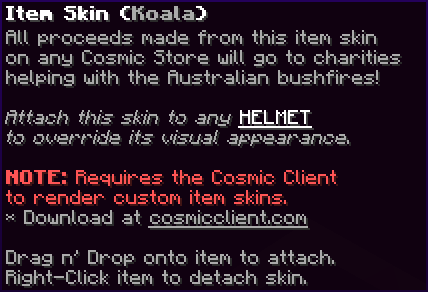 The Item Skin shows your support to this cause, as well as having the added bonus of looking pretty cute!
You must be using the
CosmicClient
to see the Item Skin
Just like masks, you just drag and drop the Item Skin onto a helmet to equip it, and right-click to detach!
You are able to have a mask on AS WELL as the Item Skin, but the Item Skin takes priority and will be shown first!
All proceeds from Koala Item Skin purchase will go directly to #FightTheFires.
Together we can make a difference!
For more information on the charities that will be receiving the donation, and the fundraiser itself head on over to the GoFundMe site here:
fightthefires.com
​
New Enchant: Loot Magnet
Telepathy for weapons- make sure you're getting all of what you're grinding with this new beauty
Loot Magnet
Tier: Legendary
Max Level: 3
Weapon Enchant

Chance to auto-loot mob spawner mob drops

This bypasses Collection Chests
Lootbox: Rules Rule! [3 Items]
Slot Bot Changes
Today we've
removed
Lootbox: Christmas 2019
Random Realm Point Note
And we've
added
Lootbox: Rules Rule!
Loot Magnet Lootbox
Dead Chest Lootbox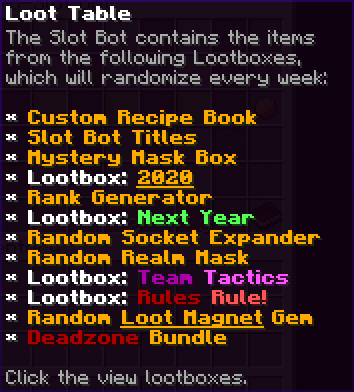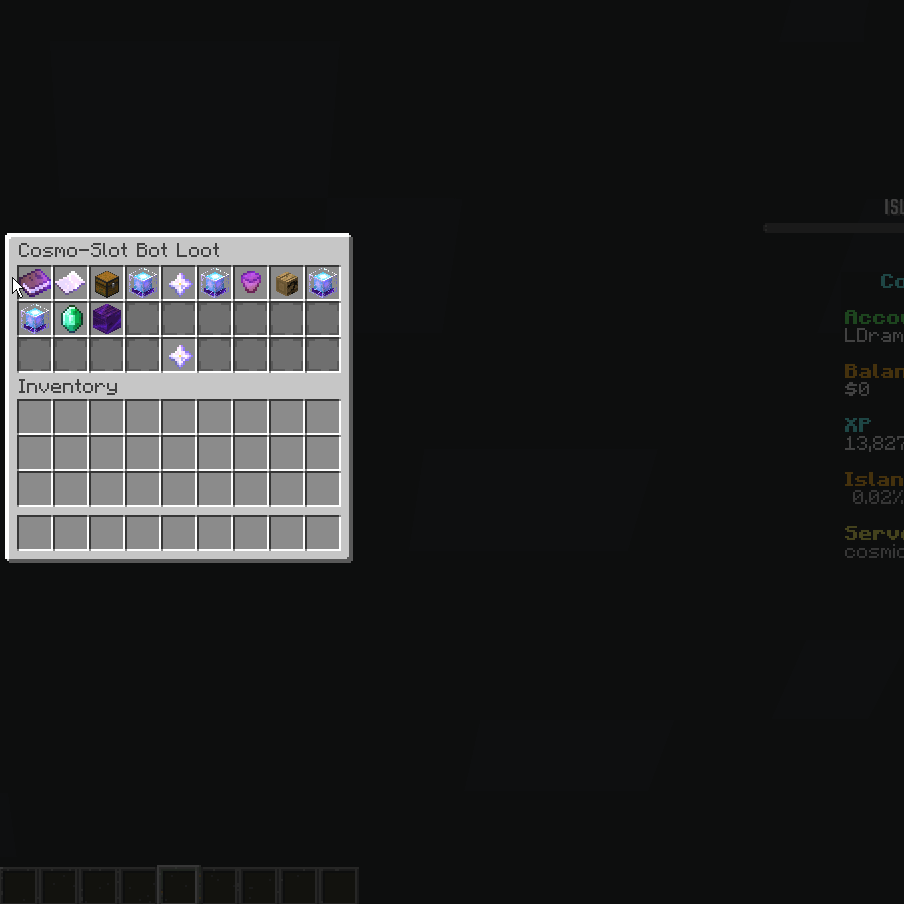 CosmicClient Combat Text
Don't you just hate wondering how much damage you are actually doing to an enemy or even if you're doing any damage at all? Well if you are on the
Cosmic Client
you don't have to worry anymore as you can now see the combat text directly on your screen! This Text even has customization's to ensure that it suits your PvP style the best!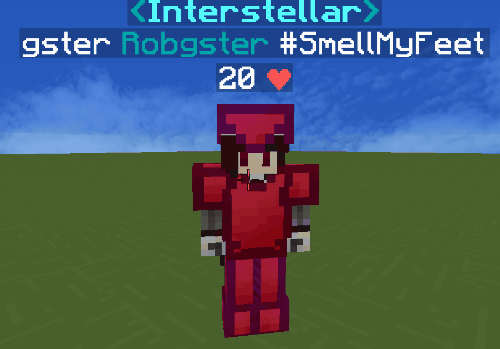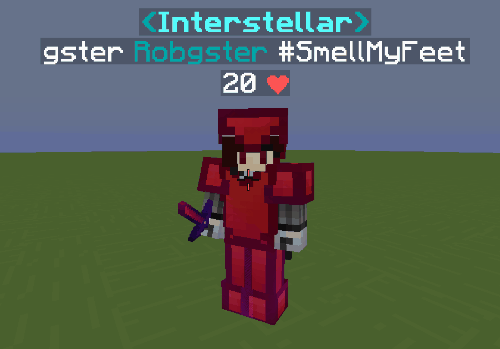 Auto Crafting Bundled Items
Bundle Bots are big this map, and we've heard your pleas for being able to use the bundled notes in Auto Crafting Bot - this week we've implemented that
Your Auto Crafting Bot now has a new option to purchase for $50,000,000

You are required to max out the inventory size of the Auto Crafting Bot before you can purchase this

You can only use bundled notes to craft with so long as you supply all materials as bundled items

E.g., you cannot use bundled coal with steak - you need to have bundled steak AND bundled coal

We've added coal and iron ingots to the Bundle Bots!
QoL and Bugfixes
We've heard your concerns regarding the YouTuber bonus, and as such it will not be increasing any further.
We've also taken on board your comments and frustrations about Vex in the Demonic Realm and politely asked them to leave (they will no longer spawn)
The Permission Block border color has been changed from WHITE to YELLOW


Mitigated an issue where ignored players were able to /senditem
Mitigated an issue where you could not access to /is GUI of the island you were on unless you had your own island
Mitigated an issue where you were not able to access the Stone/Iron outpost
Mitigated an issue with Nether Armor durability
Removed a couple more places that Chorus Fruit was hiding

They have been removed from Teleport Pad blacklist
You will not longer receive the message that Chorus Fruit has been unlocked when you grow 30 million pumpkins

Resolved an issue if you punched a Permission Block, it would also open up the GUI
35% OFF Sale
The weekend is here, and it RULES! So, to celebrate, we're giving you an outstanding
35% OFF sale
across the whole of the server store,
excluding the Koala skin.
Enjoy it while you can!
Last edited: